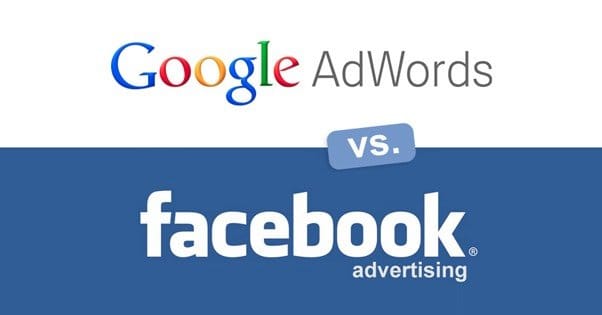 Hmmm…
So you are looking for "Google Vs Facebook Ads" right!
Is it as complicated to tell as show your ads on TV or Newspaper?
Because, both of the platforms have their own identity, audience circle, algorithm, Vision, etc. And, they have their own audience boundaries too.
If I will say in a line then, Google Adwords helps you to find new customers whereas, Facebook Adverts helps you to be found by new customers.
I am sure, you already know what is Google Adwords and What is Facebook
Adverts. Please have a quick look to remind the same before proceeding further.
What is Google Adwords?
And What are the Differences Between Google Ads & Facebook Ads?
Google Ads Services is a paid search advertising platform where you have an ocean of opportunity to get reach your business brand, services, and products to the customer. Google Adwords is the world largest SEARCH ENGINE MARKETING PLACE synonymously with the term PAID SEARCH.
In Google Adwords, you need to play with bidding for the keywords and by maintaining high score ads quality by making informative ad copies which should be relevant to the keyword search term entered by an anonymous person on Google Search.
If you know, how to optimize Google Adwords Campaign properly, definitely you will get the maximum return on your Investment in Ads. Otherwise, you will lose the money on every Clicks done by the user. In technical terms, it is known as Pay Per Click, in short, PPC Advertising.
Differences Between Facebook Ads & Google Adwords
Facebook Adverts:
As we well know that Facebook is the world's number 1 Social Media site in this era. Along with networking services for users, Facebook also allows marketing your brand or products by using their paid services, known as Facebook Adverts or Facebook Paid Ads.
This site has its own audience to whom it shows the relevant content based on the interest of users.
Either, it's Google PPC Advertising or Facebook Paid Campaign, both have the only one vision and it is to get reach advertisers info to the end of customers.
Now, as you remind what these two terms are, let's move to see the Pros and cons of Google Adwords Campaign Management and Facebook Paid Ads Campaign
Pros of Google Ads Services
Potential of the audience is higher
Starts immediately after creating a good campaign
Easy to track each click and conversion details
All control of pay per keyword bid and daily budget in your hand
Flexibility to increase or decrease keywords rate anytime
Instant ROI measurement to refine your ads and campaign to make it for higher ROI
Easy to use URL Template for tracking each activity done by a user through your running ads
A custom ad running schedule by time, day, location, interest, device and more Option to run your ads even you don't have a website
Number of choices to choose advertising methods such as Search Network, Display Network, Call Ads, Remarketing and amazingly more
Easy to target them, who have already shown their interest in your service or product and are near to be converted into leads
Cons of Google Ads
If you will not create a properly optimized campaign, you are going to lose a lot of money, which will demotivate you to use Google Adwords.
If you are a novice in it, First time set up might take little more time to manage and run your campaign.
Limited characters to write your business info which will be shown to the audience.
You must learn the art of displaying your info in Only 3 lines while using Google Ads Services.
Hope you just learned few new things from this blog. Your response will inspire me to share more knowledge with you using my experience and skill. So please like, share & leave your comment below. You can also Contact Us for any query or services such as Google Ads or Content Writing.
Also Read: